UV DISINFECTION SYSTEMS
UV system is the most reliable , effective and safe water disinfection method.
The reason is chlorination and other chemical disinfection method will have long term
damaging effects on the human body and environment.
Why you choose UV for disinfection?
1. No Damage for our environment. No chemicals are required.
2. Safety and easy operation.
3. Low operation costs VS chemical disinfection costs.
4. Short detention time & small space.
5. Efficient disinfection method.
6. Customized design.

Photo & Diagram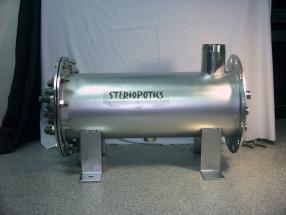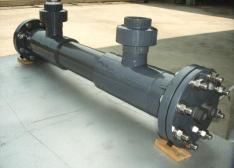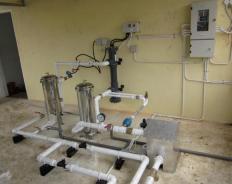 UPVC material Chamber UV ( 150W) UV-150W for Condenser water filtration system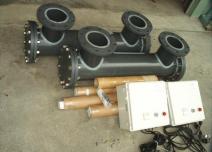 UV-300W for aquaculture
for sea water
Specifications
Model
Capacity(m3/hr)
Number of Lamp
Power(Watts)
Diameter(mm)
Length(mm)

UV-1

6~16
1
75
101
860
UV-

2

13~33
2
150
152
860
UV-

3

25~63
3
225
203
860
UV-4
30~75
4
300
203
860

UV-5

42~108
5
375
203
860
UV-

6

50~130
6
450
203
860
UV-

7

58~138
7
525
203
860
Options:


* Counter indicator for lamp life time
* UPVC chamber


* UV intensity meter
* Indicator for each lamp:

P.S. 1. Customer Designed.
2. Capacities are approximate and depend on water & various wastewater Characteristic.


3. The Dimensions are approximate value

Advantages

1. Made of stainless steel 304 for drinking water, food process,....
2. UPVC material chamber for Fish & Shrimp Hatcheries for sea water
and for swimming pool, Spa with corroding environment and economic selection.
3. Electropolished and passivated for reactor chamber
4. Compact design, easy to install & maintain.
5. Non-toxic and non-corroding
6. Standard UV intensity range: 15,000 ~45,000 µwatt/cm2
7. Higher transmission for quartz sleeve

Applications

1. Municipal Wastewater Treatment Plants
2. Industrial Wastewater and Reuse
3. Air condition Cooling water Recirculation
4. Fish & Shrimp Hatcheries
5. Other industry disinfection , for food and beverage, pharmaceutical, and micro-electronics industries, pure water