Submersible aerator
1. Submersible aerator are frequently used in wastewater treatment plants, especially during homogenization and equalization, preparing stages, sludge stabilization and post-airing stages.
The aerator's submerged motor activates an impeller and the rotation of the impeller result in vacuum to draw air from a special aspiration chamber.
Water and air mix in the channel of aeration housing. The air-water-mixture current is discharged speedily by the centrifugal force.
Unlike other aeration systems, the submerged aerator do not need to be emptied or the plant shut down for installation or maintenance work. Power: 2- 75 HP, Oxygen input rate up to 85 kg o2/ hr.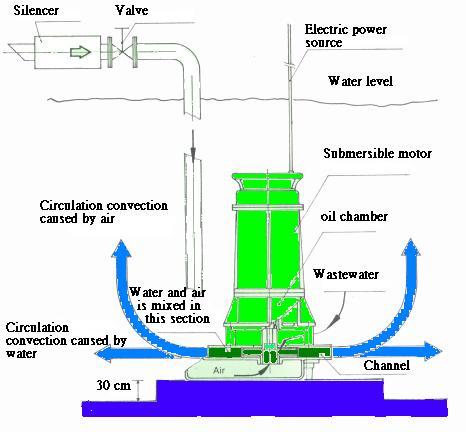 ¡@
e-mail: webmaster@en-found.com
¡@
¡@ Enfound Enterprise Co.,Ltd. 2000 All Rights Reserved¡@